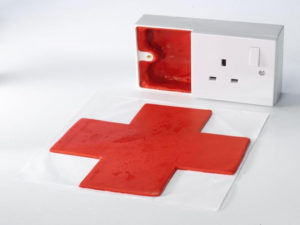 Protecta Putty Pads | Now Available
Available now from ESL are Protecta Putty Pads, an innovative and easy to use solution for reinstating the fire resistance of internal walls when fitting electrical socket boxes.
Installing electrical fittings in fire rated partitions can create an easy passage for the spread of fire, smoke and noise. Protecta Putty Pads are an easy to apply fire and sound rated sealant supplied as a non-setting pad. The pad is hand workable, reusable and re-serviceable due to its non-setting properties. It can be easily fitted into an electrical box without the need for tools.
Your Fire Safe Socket Solution
The flexible intumescent pad is based on a silicone polymer with additional fire retardant additives. The Putty Pad can be fitted inside or on the outside of the sockets or wall boxes and in a fire it forms a robust fire resistant barrier that prevents burn through at the location of electrical installation. Fitting Protecta Putty Pads will reinstate the fire rating of the partition for one and a half hours and prevent the passage of smoke and flames in a fire and sound and air movement during normal service life.
Quick & Easy Installation
Only 1 pad or 1 kit is required for each box and the pads are available in various sizes to suit both single and double wall box installations. These putty pads have a working life of at least 25 years, are unaffected by moisture and are environmentally and user friendly containing no solvents or VOC's.
All Protecta products are tested to the highest standards and meet all required fire regulations. These pads are now a specified requirement in most new builds.
We also stock fire retardant expanding foam and silicone sealer.
Get In Touch
Call us today on 01-4731381 or email sales@esl.ie